Tennessee Worksheet
Various families/notes
↵TN Page | Mysteries/Questions | Notes | Google Map & Issues
Joseph Cathcart (the spy)

who are his children? wife?
match him with known census listings
match with yDNA results

Margaret and Elizabeth Bailey and the NC connection

Elizabeth Bailey (Hipworth?) m. John Cathcart, Jr. (b. 1789-1792 -- d. bef. 1860)

Is she related to the next Margaret Bailey?
Is this the same John Cathcart (son of John and Mary/Felicity Fisher) as John C. Cathcart (perhaps son of Joseph Cathcart who m. Janet Macandless)?

Margaret Bailey (b. 1798 NC) m. Robert Allen Cathcart (1796 NC - 1867 TN)

are Margaret and Elizabeth related?
see Robert Nicholas (Robert Allen's son) below

Who is the Allen Cathcart who witnessed a land deed in Chester County, SC in 1807? We don't see the name "Allen" at that time outside of TN Cathcarts... Need more research here!

Monroe County: Notes / Court Cases | DeKalb County
James Allen Cathcart appears in the 1840 census (Blount County) within the appropriate age block.
He and Cyntha/Cynthia Hammontree Cathcart appear in the census listings for Monroe County in 1850 and 1860:

1850: D19, Monroe Co., TN (6/6) Alen Kithcart age 36, Synthia 34, Farmer

Alen Kithcart, 36, Farmer
Synthia 34
Elizabeth 10
Joseph 9
John 6
William 5
Anney f, 2 [on next page, first page of 9th District]

1860: PO Sweetwater, District 9, Monroe, Tennessee (246 1/12) age 44, Cynthia 43, Farmer, $1000 estate worth

Allen Cathcart 44 1815 Tennessee Male
Cyntha Cathcart 43 1816 Tennessee Female
Elisabeth Cathcart 21 1838 Tennessee Female
J G Cathcart 18 1841 Tennessee Male [Joseph Grover]
W L Cathcart 17 1842 Tennessee Male [William Lafayette]
J H Cathcart 15 1844 Tennessee Male
Anna E Cathcart 10 1849 Tennessee Female
Sarah Cathcart 7 1852 Tennessee Female
J E Cathcart 6 1853 Tennessee Male [James E]
Hugh A Cathcart 4 1855 Tennessee Male
In 1870, however, things get a bit "interesting." It appears likely that Allen Cathcart remarried after his his first wife died (sometime after the 1860 census).

First of all, there is a 1870 Census listing with four of Allen's children: Joseph 27 (head of household), Lafayette 24, Sarah 18, and James 16. These match up quite well with the children listed in the 1860 census above.
There's also this census the same year (also in Monroe County's 9th District), which might be Allen and a new wife (Emiline Barrett):




1880 Census (on same page, two households away from his son, Joseph G. Cathcart); all born in Tennessee except for Emaline, who was born in Georgia:



Note that James B and Mollie are listed as stepson and stepdaughter and have their correct last name of "Barrett" listed.
Allen doesn't seem to have aged! He was 50 (or perhaps 56) in the 1870 census, and now appears to be only 54. Although the second digit in Allen's name is not completely clear, the first digit is definitely a "5." Perhaps he felt the need to lower his age a bit closer to his wife's age?
NNo.440) Original Bill Filed 1 Sept 1849 B.M. Russell vs Phillip and John Hamentree (Hammontree) Barckley M. Russell assignee of Martha Henry of Blount Co. died Aug 1840 testate, wife Sarah, sons Philip, John, Hugh, and Harvey; daughters Elizabeth Rosin, Martha Henry, Margaret, Phebe, Cintha J. Cathcart, Polly Black, wife of Joseph Black. Wit: John McClain Jr., David Hammontree and Berry Abernathy. Will made 18 Aug. 1840. 1850: Dr. Saml. Douthet, 72, of Blount Co. and James W. Lea 42, of Roane Co. witnesses, also Betsey Rosin 54, David Hammontree 53, brother to John Sr., Martha Henry, widow of Wm. Henry had 3 children when father died, has had 2 since, and 1 has died, and they all lived with John Hammontree and mother Sarah for 9 years. after John Sr. died. 1851, witness Sarah Hammontree about 78, 1851: witness Margaret Duncan of Blount Co., 45, is dau. of John Hammontree Sr
(http://www.tngennet.org/monroe/chancery/chanceryg.htm)

No.770) (78) Filed 16 Feb 1863 Payton Hudson by Gdn. Thos. H.S. Smith vs Thos. L.D. Trotter and Cross Bill. Sale of land. Payton is of weak mind, incapable of managing his affairs (But is witness for himself). By Apr 1867 T.L.D. Trotter is dead and E.M. Trotter and Joseph Cathcart are Adms.
(http://www.tngennet.org/monroe/chancery/chanceryk.htm)
Robert Nickelas Nixon Cathcart (1818-1890)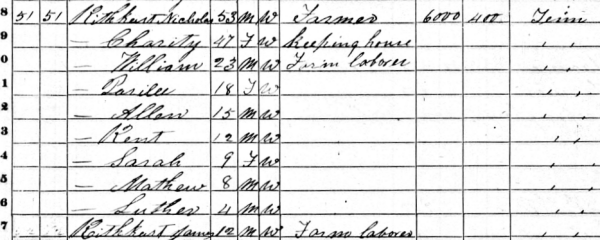 1870 Census: PO Liberty, DeKalb, TN
The listing of 12 year old James Kithcart at the end indicates that he is not an member of the immediate family. More research needed.

Google Map & Geographical Challenges
Google Map
This map is in its early stages of development. I'm adding different geographic locations for the different lines of Cathcarts residing in Tennessee. Just lick on the blue markers for more details.
See below for more geographical challenges/details.
View
Tennessee Census locations
in a larger map
Many of the early Cathcart settlers in eastern Tennessee lived in an area along the border between Monroe and Blount counties. Present day Loudon County had not yet been created when these Cathcarts first settled in the area; but many of the cities and towns associated with these Cathcarts are in the southeastern part of present-day Loudon County.
Figuring out exact locations is further complicated by...
destruction of census records
fairly frequent moving of County boundaries
creation of new counties
impact of various dam building/flooding
Morganton The town of Morganton (possible birth location for James Allen Cathcart, 1815-1884, wife Cynthia Hammontree) is an interesting example. The town is now submerged under the Tellico Lake. However in the 19th century, it was an important flatboat port. See Wikipedia article for more details.
Vonore Located in present day Blount and Monroe counties.