South Carolina
Main page
General Information & Links
Census | Maps | Counties | Old Districts/Counties/Parishes
General Information and Links

Maps
Modern County Map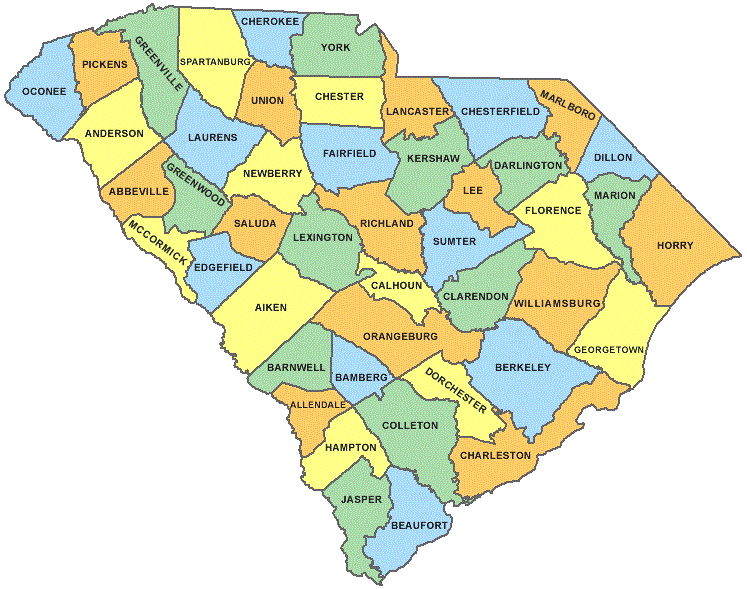 Click on county for individual county page
1816 Map
Hover mouse over area to see District name, click District for details.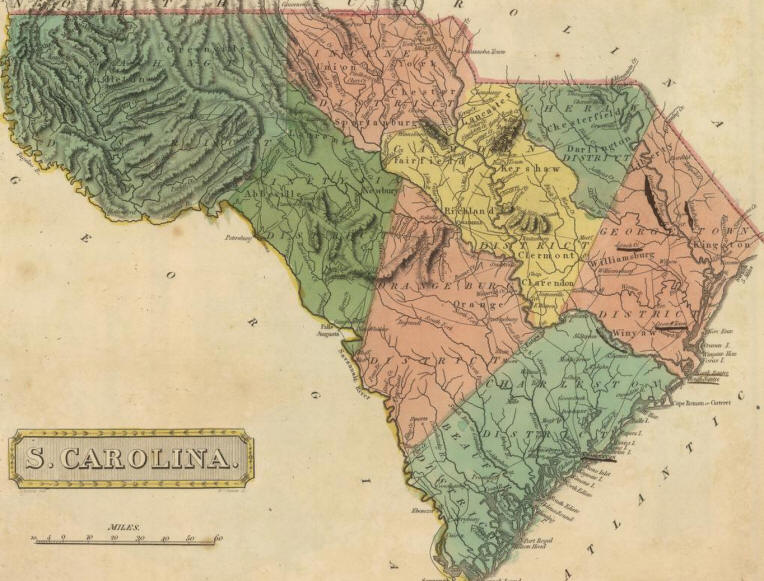 Click "S. Carolina" above for scalable map (David Rumsey Collection)...
Other Maps

County, District and Parish History
Basic County & District Information
South Carolina's geographical subdivisions (counties, districts, and parishes) have changed, morphed into new entities, disappeared… making the job of interpreting genealogical records quite challenging. What follows is a brief description of this part of South Carolina history.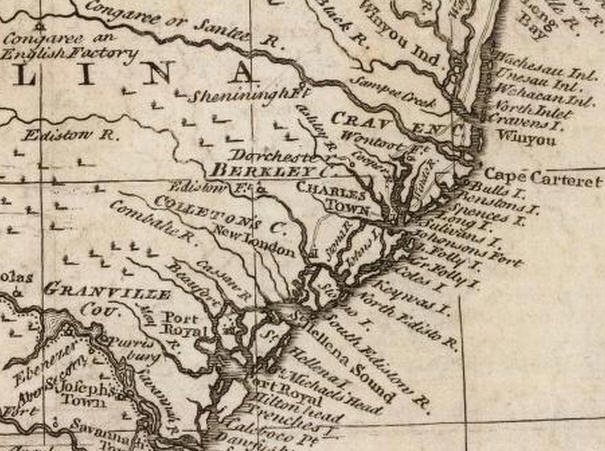 1747 note counties from Granville in the South to Craven in the north
COUNTIES
Throughout the colonial period, until 1769, counties were used to describe basic divisions of the colony. Generally, their borders started at the Atlantic coast and proceeded north-westward into the interior.
Sixteen South Carolina counties no longer exist: Craven (1664-1768), Carteret (1684-1708), Granville (1708-1768), Granville (1785-1798), Bartholomew (1785-1791), Claremont (1785-1800), Hilton (1785-1791), Lewisburg (1785-1791), Lincoln (1785-1798), Marion (1785-1791), Orange (1785-1791), Shrewsbury (1785-1798), Washington (1785-1791), Winton (1785-1791), Salem (1792-1800), and, Pendleton (1800-1826).
Four counties were reestablished after disappearing for a while: Berkeley County (1682-1768), resurrected and existed from 1785 to 1791, then abolished again, finally resurrected again in 1882 and continues to the present; Charleston County (1785-1791), resurrected in 1800 and continues to the present; Clarendon County (1785-1800), resurrected in 1855 and continues to the present; Colleton County (1785-1791), resurrected in 1800 and continues to the present.
Four were renamed: Kingston (1785-1801) was renamed to Horry County; Liberty (1785-1798) was renamed to Marion County; Spartan (1785-1791) was renamed to Spartanburg County; and, Winyah (1785-1800) was renamed to Georgetown County.
DISTRICTS
In 1769 Circuit Court districts were established (Beaufort, Camden, Charleston, Cheraw, Georgetown, 96, Orangeburg, Pendleton, Pinckney, and Washington), and in 1785 each overarching district included several counties each.
Bartholomew County
Created in 1785, within Charleston District.
Abolished 1791.
See Charleston District map below for location
1768. District created from original Chester, Claremont, Clarendon, Fairfield, Lancaster, Richland, York counties
1785. Counties re-established as subsets of Districts
1800. Overarching Districts abolished, but counties were referred to as Districts until after Civil War.
Carteret County
Charleston District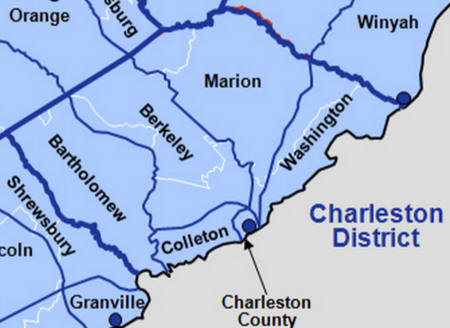 Includes present counties of Charleston, Beaufort.
Cheraw District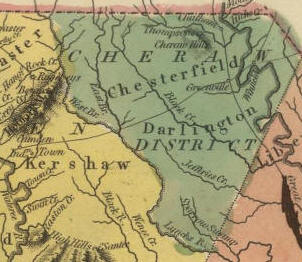 Claremont County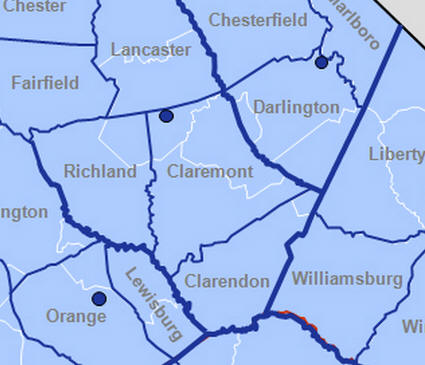 Created in 1785, subordinate to Camden District
1791 part lost to form Salem County
1800 merged (along with Clarendon and Salem) to form Sumter County.

Created by Proprietors in 1664, on coast, north of Charleston to NC border

On coast, north of Charleston to NC border

On SE coast... today's Beaufort County

Hilton County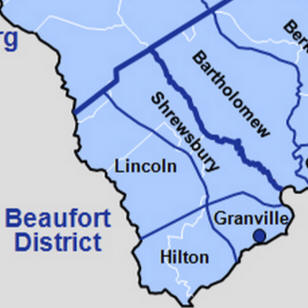 Created in 1785, within Beaufort District

Pinckney District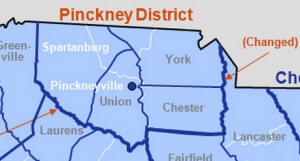 Created in 1791 from parts of Ninety-Six and Camden Districts. The district included York, Chester, Spartanburg, Union counties
For a few years, the Pinckney district included the northern Panhandle of Lancaster County—as can be seen in the map below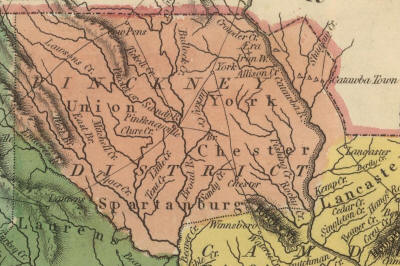 Ninety-Six District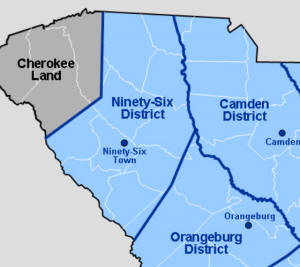 Created 1768By 1785, the district included the following subordinate counties: Abbeville, Edgefield, Laurens, Newberry, Spartanburg, and Union.
Abolished 1800
Salem County
Created 1791
Subordinate counties: Greenville and Pendleton
1798 Renamed Pendleton District
Parishes of South Carolina
1760 Map showing locations of Counties and Parishes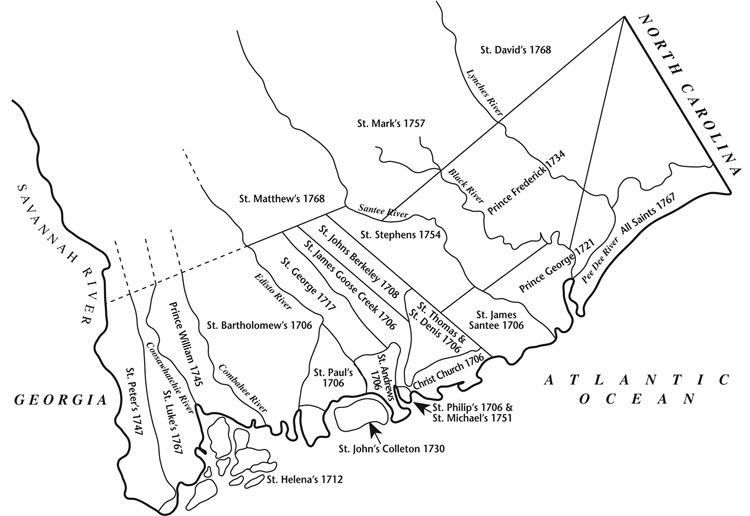 Individual Parishes (links to FamilySearch.org wiki pages)
All Saints | Christ Church | Prince Frederick | Prince George | Prince William | St. Andrew's
St. Bartholomew's | St. David's | St. George Dorchester | St. Helena's
St. James Goose Creek | St. James Santee | St. John's Berkeley | St. John's Colleton
St. Luke's | St. Mark's | St. Matthew's | St. Michael's | St. Paul's | St. Peter's | St. Philip's
St. Stephen's | St. Thomas and St. Denis

Individual County Pages
Select from the box below, or use the map above.

---